"Now I am Kote. I tend to my inn. That means beer is three shims and a private room costs copper." - Kote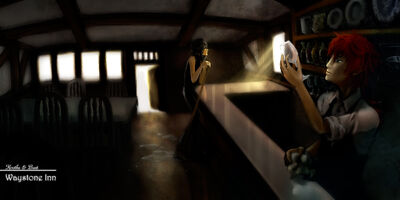 The Waystone Inn is an inn in the town of Newarre.
It is stocked with a wider variety of potables - coffee and chocolate - than might be expected for such a remote village, and experiences a loyal following of regulars from the townsfolk.
It was purchased or built by the current owner Kote, who runs the inn with the help of his apprentice, Bast.
The inn has a large main room, filled with tables and containing the bar. There is a great stone fireplace in this room. The inn also has a cellar where various things, apples, meat and such, are kept cold. There are rooms upstairs for the inn's guests along with Kote and Bast's own rooms. Outside the inn has stables for the horses of merchants who sporadically come through to Newarre.
Behind the inn are neat stacks of firewood between a domesticated wood and a bramble patch. Selas vines grow up behind the inn. It is likely that there is also a kitchen garden.
In the Story
The Waystone Inn is where Kvothe has hidden from the world. He conceals his identity, going by the name of Kote, and keeping a low profile in the town, rarely even talking with the people who frequent his bar. He and Bast live here in relative peace, until a series of events brings Chronicler to the inn. Here the scribe convinces Kvothe to tell him his life story.
Regulars
Beverages
Beer
Apple Cider
Chocolate
Wine
Cod Liver Oil
Food
Kote has served stew, fresh-baked bread, and apple pie.
Appearance
It has a mahogany bar and a wooden floor and a black stone hearth by the fireplace. There are splintering barrels behind the bar. There is a mysterious thrice-locked chest upstairs in Kvothe's room.
Community content is available under
CC-BY-SA
unless otherwise noted.