"The great new fantasy writer we've all been waiting for."
Patrick "Pat" James Rothfuss is an award-winning American writer of fantasy fiction, and a former college lecturer. He is the author of The Kingkiller Chronicle and various other works.
Biography
Rothfuss was born on June 6, 1973 in Madison, Wisconsin.
He received his bachelor's degree in English from the University of Wisconsin–Stevens Point in 1999, after spending nine years exploring various majors, such as Chemical Engineering and Clinical Psychology. He contributed to the campus paper titled "The Pointer" and produced a widely circulated parodic warning about the Goodtimes Virus.[1] He then attended Washington State University for graduate study (which "he'd rather not talk about"[2]), after which he returned to teach at Stevens Point.[3]
Career
In 2002, he won the Writers of the Future 2002 Second Quarter competition with "The Road to Levinshir", an excerpt from his then-unpublished novel The Wise Man's Fear. He subsequently sold the series now known as The Kingkiller Chronicle to publisher DAW Books.
Patrick is currently working on the third installment in the series, titled The Doors of Stone, for which a publication date has yet to be set. He has published a short story and two novellas set in the same world since the publication of The Wise Man's Fear: "How Old Holly Came to Be," The Lightning Tree, and The Slow Regard of Silent Things. A novella entitled The Tale of Laniel Young-Again grew into a "100,000 word novel"; despite being two-thirds complete, Rothfuss postponed the book to focus on The Doors of Stone.[4]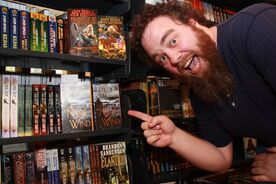 He has published a not-for-children picture book series entitled The Adventures of the Princess and Mr. Whiffle, which includes two books: The Thing Beneath the Bed and The Dark of Deep Below.
In August 2012, Patrick partnered with Geek & Sundry to participate in a monthly YouTube event titled "The Storyboard". It ran for eight episodes and featured many different authors, primarily from the fantasy genre. It focused on various methodologies for writing.
Pat is an avid gamer and has worked with Albino Dragon to construct a playing card deck with artwork based on The Name of the Wind. He has also worked with Cheapass Games to construct the pub game Pairs, which he plans to feature in his novels. Additionally, he has created a character and accompanying comic book for Torment: Tides of Numenera.
Pat also runs a yearly fundraising event for Heifer International called Worldbuilders. His blog features updates on all the fun stuff the organization does to aid those in need.
Works
Temerant
Non-Temerant
Non-Temerant (Other Media)
Personal life
Rothfuss and his sister[18] were born and raised in rural Wisconsin. Rothfuss thanks his "marvelous set of parents"[19] for nurturing his love of reading. He credits his mother with kindling his love of fantasy and his father for teaching him to do things "right."[20]
Rothfuss and his girlfriend Sarah started a family in 2009. The couple share two sons whose real names he has not revealed publicly, giving his boys the choice on whether or not to reveal their real names as adults; on his blog, he instead refers to them as "Oot" and "Cutie Snoo".[21][22] He currently lives in Wisconsin in a house he bought with his girlfriend in 2007.[23]
References
External links